Using batteries.
No elevation? Use a battery-powered solution.
To enjoy a reliable independent water supply at any location, we have a solution that works everywhere. Combined state-of-the-art solar panels and battery technology allows efficient reverse osmosis, while minimizing battery size. The batteries used require no maintenance, are suitable for warm climates and enjoy a long lifetime.
This plug & play off-grid solution is containerized to be commissioned in a matter of days. The solar panels are placed on top of the container. As alternative, all components can be integrated at preferred locations, to avoid impact on existing infrastructure and limit the footprint. The high efficiency reverse osmosis is equipped with remote monitoring for control and designed for simple operation. All components are purpose built to survive corrosive environments and ensure a long life-time.
The production capacity can be doubled using a hybrid version, that runs on solar energy during the day and uses an existing energy supply during the night to reduce the payback time even more. The solution is available from a few m³ up to millions of liters of potable water per day.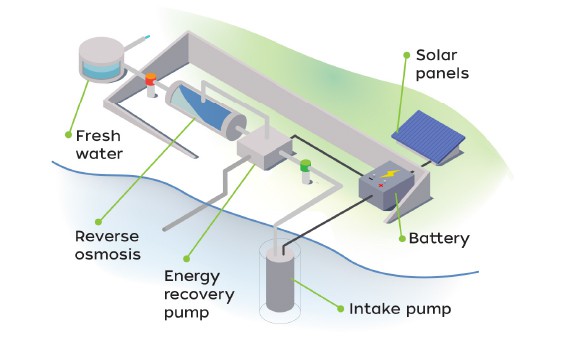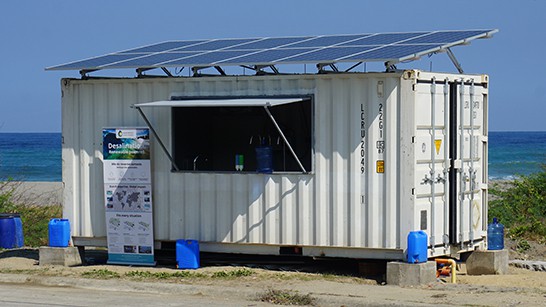 The solutions can be designed for any requested water production. We provide containerized units for plug and play installation, or integrate all separate components to your preference into the (existing) infrastructure.
Footprint indication
5 m³/day
1,320 gallon/day
50 m³/day
13,200 gallon/day
200 m³/day
52,840 gallon/day
Solar panels m² (ft²)
19 m² (205 ft²)
190 m² (2,050 ft²)
760 m² (8,180 ft²)
Battery capacity kWh
9
90
360
Option 1: Container type ft
10 ft
40 ft
2 x 40 ft
Option 2: Desalination footprint m² (ft²)
5 m² (54 ft²)
17 m² (183 ft²)
34 m² (366 ft²)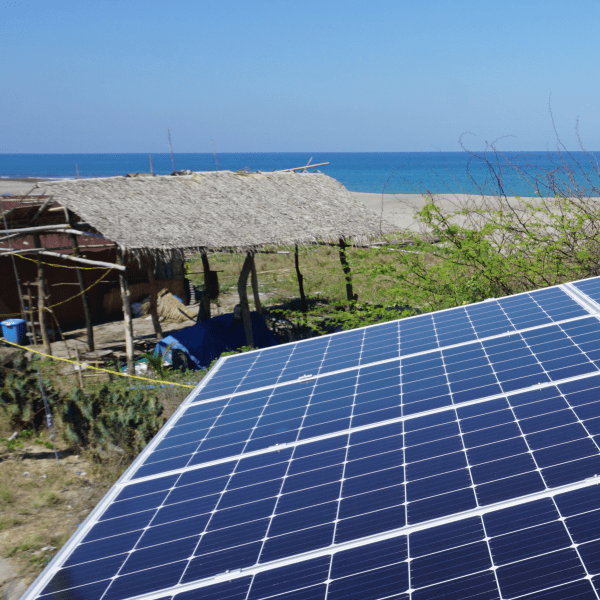 Battery case: Philippines.
Water kiosk using solar-grid hybrid desalination.
''There are four major issues in the provision of potable drinking water in Southeast Asia: water cost, quality, access, and environmental impact. Working with EWM technology we are able to invest locally into decentralized water production solutions that overcome each of these challenges. Starting in the Philippines, regions where we operate can now enjoy affordable high-quality water that has been produced using a sustainable method, in line with our vision.''
Reverse osmosis with low energy consumption, even at small-scale. Take a look how we ensure a minimum of maintenance and stress-free operation.
Example case: batteries.
A community with access to safe and affordable water.
The problem
The community relies on water that is trucked in on a daily basis. The results is a questionable quality upon delivery and a high water tariff of 6 $/m³. Lacking an alternative, the people are forced to spend a majority of their limited income on water, without the assurance of good quality and sufficient availability.
The solution
This changes completely when a decentralized solution of Elemental Water Makers is put in place. It's a battery based desalination unit which can be operated to produce 5 m³/d fully solar energy driven off- grid. There is also the option to produce 11 m³/day in hybrid mode making use of grid or generator power during the night. The solution allows the people to enjoy savings on the water expenses of 75% and total savings of over 300.000 $. The solution's payback is 2.5 years.
The benefits
The community now has high-quality potable water on-site, without the dependency of water trucking and associated carbon emissions, saving 10 ton CO2 per year. The solution leads to empowerment, jobs and possibilities for education.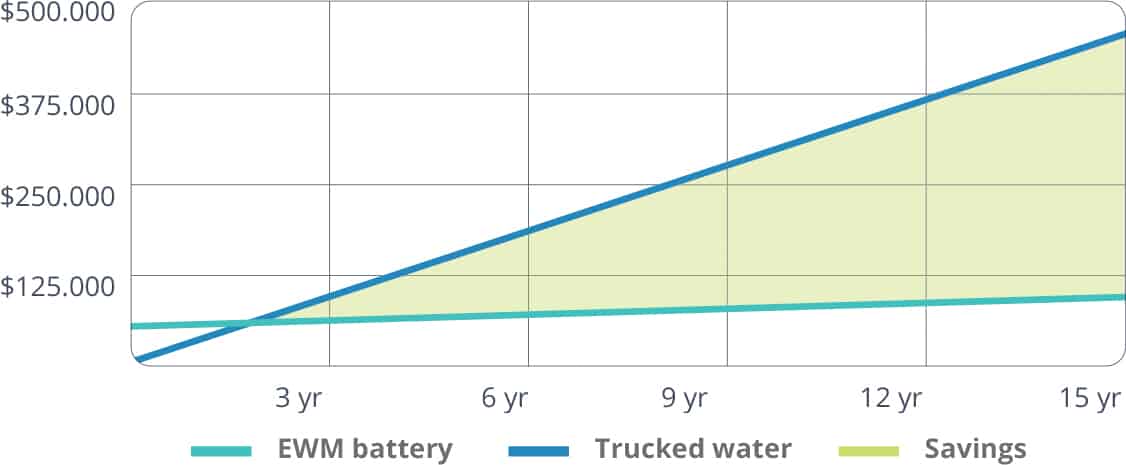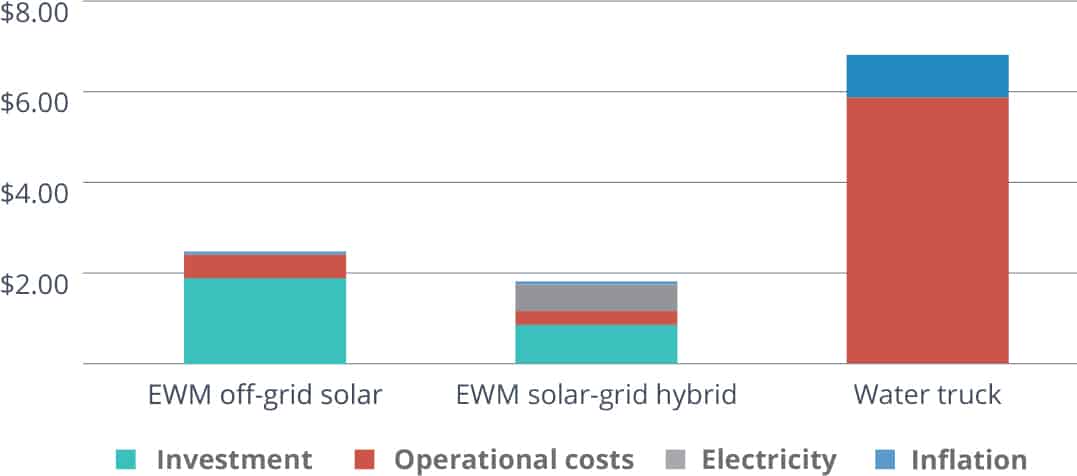 Over $300.000 in total savings.
Reliable savings.
Save up to 75% on water expenses.