Reverse osmosis. without the downsides.
As a result of dedicating five years of energy, resources and creativity, we are accelerating to secure fresh water today, without limiting tomorrow. We are proud to say solar desalination is making its way to become the new standard. Elemental Water Makers is spearheading the way. Allow us to share how.
Earlier this year, we received the 1st prize of the Mohammed bin Rashid Al Maktoum 
Global Water Award
 of the Deputy Ruler of Dubai. Out of 138 organizations active in desalination, we were chosen as the winner for our scalable and mature solutions.
We are proud to be working on emergency relief solutions in the Caribbean. Water is essential during reconstruction. Our 
compact efficient water makers
 can rapidly be deployed for access to water. The solar-powered desalination on the 
Virgin Islands
 survived the hurricane's impact. 
#HURRICANEPROOF
WE DO REVERSE OSMOSIS. WITHOUT THE DOWNSIDES.
An end-user on the Canary Islands is happy to share his experience:
"Elemental Water Makers made it possible for our eco-village to become independent on water. We are naturally powering the desalination unit by harnessing the wind & sun. I hope they will encourage the rest of the world to do the same." Tila Braddock, Founder Lanzarote Retreats.
WORLD'S MOST PRIVATE ISLAND USES OUR SOLUTION.
"The original water supply plans weren't sufficient for this private island hideaway. The Gladden Island team received a high-level, cost-effective desalination system, delivered on time with top-notch customer support throughout the process." Chris Krolow, owner Gladden Island. Watch stunning images and find the whole testimonial in the latest Private Island Magazine.
WORK WITH US AND BENEFIT
As the year comes to an end, it's time to make ambitions for the next.Why not do something good for your budget and for the Earth?Benefit from water using unlimited resources. Get your quote here.
DUTCH EXPERTISE. GLOBAL IMPACT. 
In the IRENA pavilion during COP23 in Bonn, we got the opportunity to present the Roadmap we developed for Clean Desalination for Cape Verde. It's available upon request.
The Africagua forum on Water & Energy featured Elemental Water Makers as a success story. Many new global connections were made. The presentation is available.
During Singularity University NL Summit, world's leading inspirators and experts who are shaping the world were given the stage. Our managing director, Sid Vollebregt, talked about the element that is becoming a reason for conflict, while it should remain the source of life. "It's possible to move from water scarcity to abundance."
The Belize Water Project team, a team of young entrepreneurial students of the University of Delft is working together with us on improving water access in Belize. They are spending 3 months in the country to connect with all stakeholders and investigate the opportunities.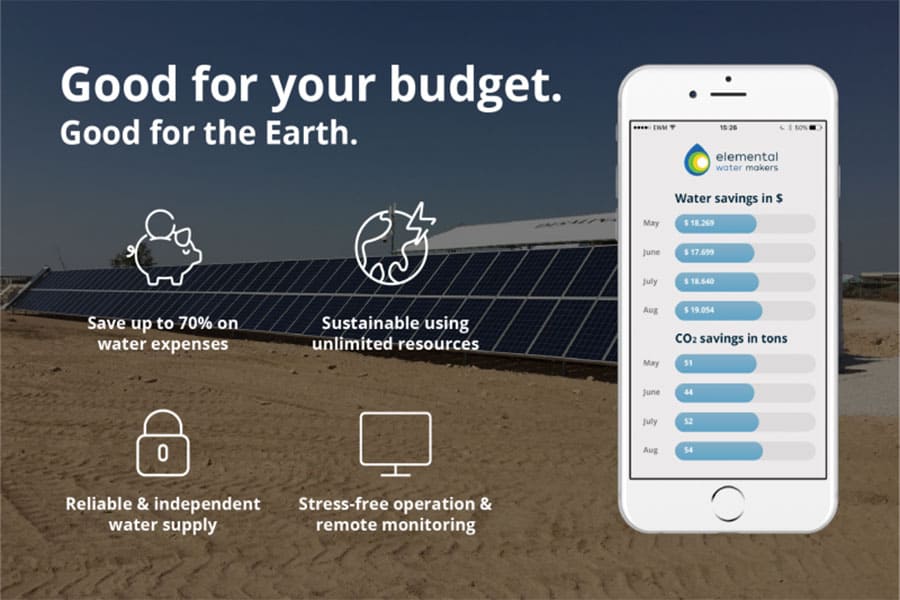 Work with us.
Benefit from unlimited resources.