Easy reverse osmosis.
Avoid high energy bills. Easy & efficient watermaker.
Desalination doesn't have to be energy intensive or complex to maintain. Our durable and efficient reverse osmosis units are powered by your energy supply. Get access to clean and reliable water using our easy to operate watermakers for land-based applications for private islands, resorts, communities, private properties, industries, hotels and others. The watermaker was developed with a philosophy of quality, durability, efficiency and comfort. We offer the following advantages over conventional reverse osmosis:
Consume 3-4x less energy with maintenance-free energy recovery.
Water quality assured by constant monitoring & automatic stop.
Easily make water by remote monitoring, control & automation.
Avoid frequent RO membrane replacement by automatic fresh flush.
Durability & resistance to corrosion ensured as all wetted parts are duplex or super duplex steel and the frame is HDPE.
Simply operate the reverse osmosis unit with a single button interface that provides access to production data & product water TDS.
Benefit from the globally implemented desalination systems that enables reverse osmosis using only 1.0 kW to desalinate 11 m³ or 2900 gallons per day. With a lead time of only a few weeks, these compact watermakers can be quickly deployed to ensure clean and reliable water on-site. Take a look below at the limited footprint and weight, references, components and a financial comparison with conventional watermakers.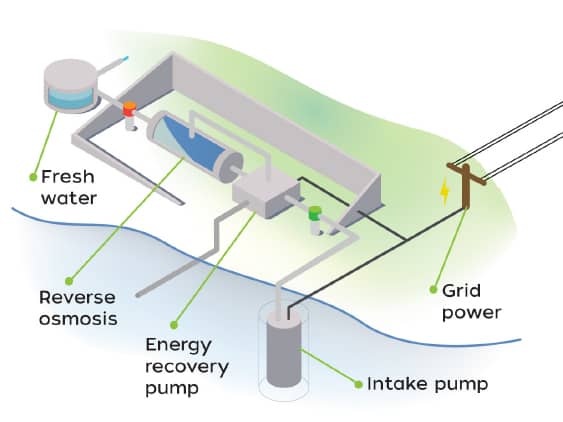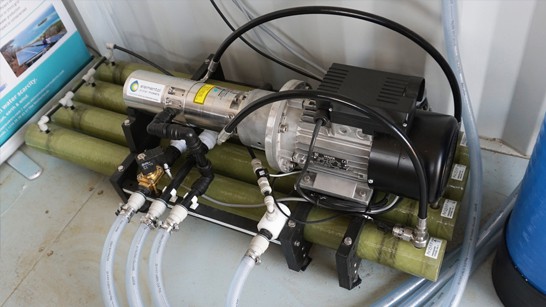 How our efficient desalination technology works
:
Compact low-energy desalination
.
The compact solutions can be designed for any requested water production, below are some examples. Different power and voltage options available. We also provide containerized units for plug and play installation, or integrate all separate components to your preference into the (existing) infrastructure.
Footprint indication
5 m³/day
1,300 gallon/day
22 m³/day
5,800 gallon/day
400 m³/day
105,680 gallon/day
SEC kWh/m³ (kWh/kgal)
4 kWh/m³ (15 kWh/kgal)
 2,7 kWh/m³ (10 kWh/kgal)
2,2 kWh/m³ (8.3 kWh/kgal)
Nominal power kW
0,8
2,5
36,7
Weight kg (lb)
44 kg (97 lb)
120 kg (265 lb)
Varies per solution
Size l x w x h in m (inch)
0,7 x 0,4 x 0,4 m
(29 x 16 x 16 inch)
1,2 x 0,6 x 0,7 m
(47 x 22 x 29 inch)
40 ft container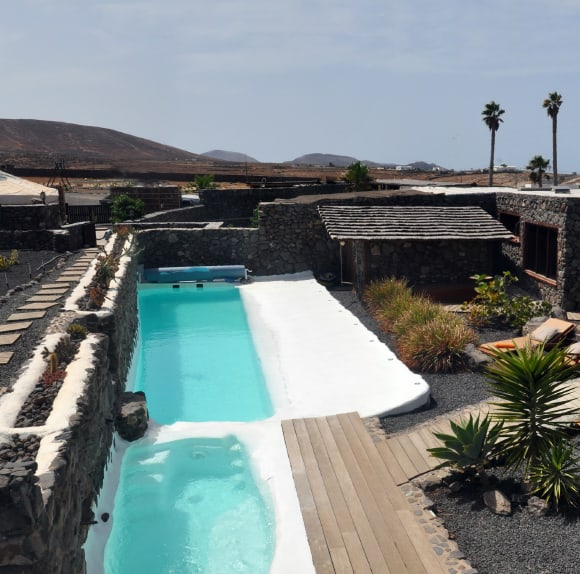 Efficient desalination reference:
Canary Islands.
Eco resort using compact & easy reverse osmosis.
"A special thanks to Elemental Water Makers who joined forces with Lanzarote Retreats to achieve their sustainability goals. The Dutch team made it possible for our eco-village to become independent on water. We are naturally powering the desalination unit by harnessing the wind & sun.

I hope Elemental Water Makers will continue to encourage the rest of the world to do the same."
Compact RO with low energy consumption. Take a look how we ensure a minimum of maintenance and stress-free operation.
Financial case: efficient RO using local energy.
A private island enjoying guilt-free water thanks to an efficient watermaker.
The problem: no fresh water available at acceptable expenses
The private island has a water demand of 9 m³/day due to landscaping and private use. The rain is not reliable and sufficient enough, leaving no alternative for desalination. Two options are available, which first appears to be an easy decision as the standard reverse osmosis solution is about 30% cheaper in the purchase price.
The solution: efficient RO unit
Fortunately, the energy efficiency is considered before making a decision. By choosing the 3x more efficient water maker offered by Elemental Water Makers, water savings of 55% are realised, equal to 112.000 $. Despite the 30% higher purchase price the payback is still less than 1 year, as energy generation on the island is expensive with 0.3 $/kWh.
The benefits: savings, stress-free operation & independence
The compact desalination solution allows the private island owner to enjoy high-quality water on-site, with stress-free operation & remote monitoring, whilst still saving 18 ton CO2 per year. This is a solution for future generations.
Assumptions: costs including installation and training | Yearly inflation of 2% | Reference RO energy consumption: 10 kWh/m³ | Water intake available | Financial lifetime 15 yrs | Technical lifetime >20 yrs | OpEx include consumables, spare parts and membrane replacement.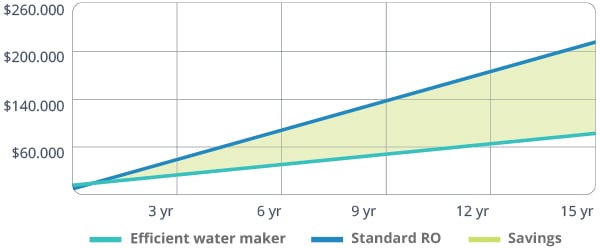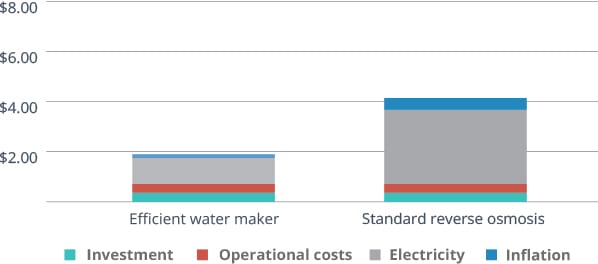 Over $100.000 in total savings.
Reliable savings.
Save up to 75% on water expenses.