Guilt-free water for private properties
.
Water is the passion of island owners and the playfield for architects and developers. It's an essential part of the stunning vistas and the key to privacy. But it also creates an expensive sustainability issue.
Fresh water has never been so easily obtainable or this free of guilt. Cut electricity and water expenses entirely. Have clean water readily available on-site without concerns.

Save up to 70%
on water expenses

Stress-free operation &
remote monitoring

Sustainable using
unlimited resources

A reliable & independent water supply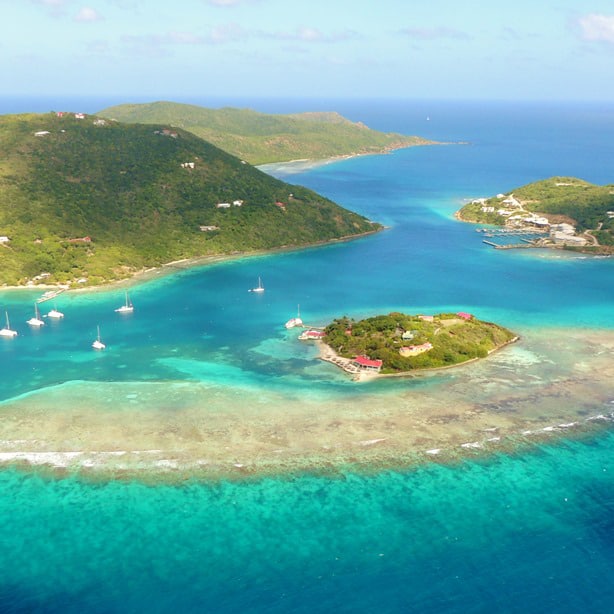 Private property case: Virgin Islands.
Solar desalination using gravity.
''My family and I selected Elemental Water Makers to provide fresh water for our home in the British Virgin Islands because they presented us with a cost-effective solution to creating a continuous supply of very high-quality water, without monthly electrical bills and without using fossil fuels. Their technical people listened carefully to our needs, were a pleasure to work with, and in the end, designed a custom solution that works as promised.

After struggling for years with high electric costs, power outages and the unreliable water quality and volumes produced by our home's traditional reverse osmosis system, we now enjoy more than 3,300 gallons of fresh water every day, using nothing more than sunshine and the natural elevation of our property. And in the process, my children and I are helping to reduce the Virgin Islands' carbon footprint and preserve its precious environment for future generations.

We would recommend Elemental Water Makers without hesitation.''

Together

Turn-key
How we work for private properties
.
Complete turn-key installation or working together with your preferred civil works partners, architects, developers, suppliers and contractors. As a global yet flexible organisation, we meander our ways to find the optimum form of collaboration and financing.
Works everywhere: 
Plug & play unit.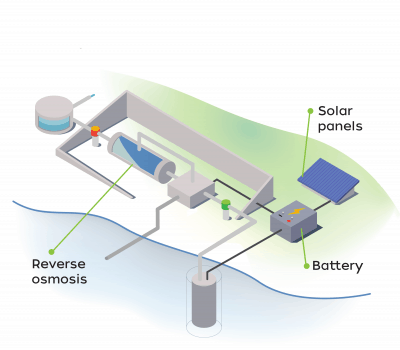 • Solar energy reverse osmosis
• Minimized battery storage
• Rapidly deployed
• Grid-tied version possible
• Water production during the day
• Containerized, Plug & play available
Elevation available: 
Let gravity do the work.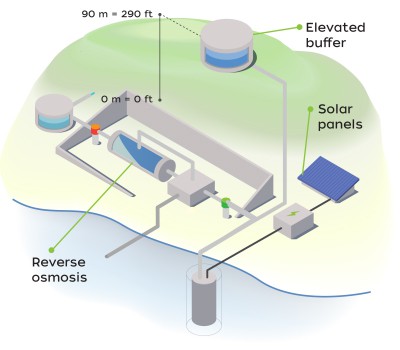 • Solar energy reverse osmosis
• Uses gravity-assisted storage
• Lowest operational expenses
• Makes use of natural elevation
• 24/7 water production
• Reduced brine salinity
Energy source available: 
Efficient water maker.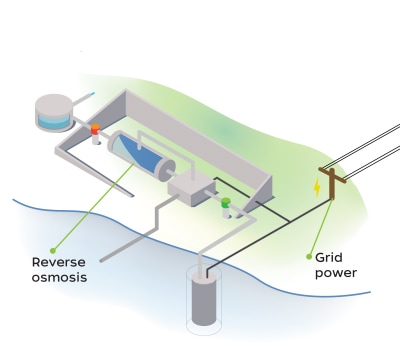 • Efficient reverse osmosis
• Uses your energy supply
• Generator or (mini) grid
• 3x more efficient vs. trad. RO
• 24/7 water production
• Compact or containerized
Financial case: efficient desalination.
A private island enjoying guilt-free water.
The problem
The private island has a water demand of 9 m³/day due to landscaping and private use. The rain is not reliable and sufficient enough, leaving no alternative for desalination. Two options are available, which first appears to be an easy decision as the standard reverse osmosis solution is about 30% cheaper in purchase price.
The solution
Luckily, the energy efficiency is considered before making a decision. By choosing the 3x more efficient water maker offered by Elemental Water Makers, water savings of 55% are realised, equal to 112.000 $. Despite the 30% higher purchase price the payback is still less than 1 year, as energy generation on the island is expensive with 0.3 $/kWh.
The benefits
The compact desalination solution allows the private island owner to enjoy high-quality water on-site, with stress-free operation & remote monitoring, whilst still saving 18 ton CO2 per year. This is a solution for future generations.
Assumptions: costs including installation and training | Yearly inflation of 2% | Reference RO energy consumption: 10 kWh/m³ | Water intake available | Financial lifetime 15 yrs | Technical lifetime >20 yrs | OpEx include consumables, spare parts and membrane replacement.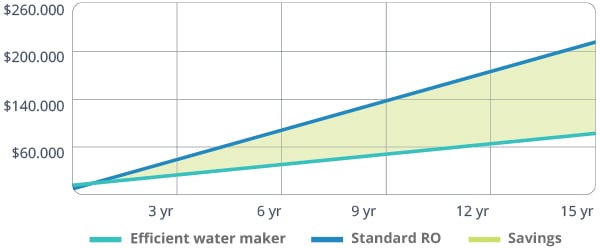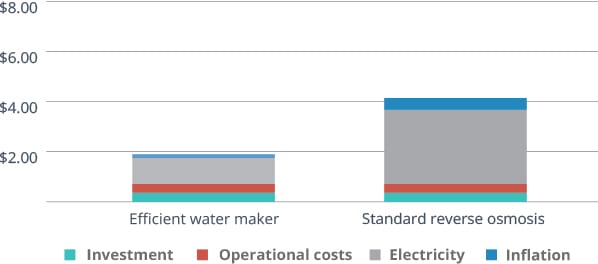 Over $100.000 in total savings.
Independence without worries.
Guilt-free water for generations to come.