Reliable savings for resorts
.
Utility expenses of a resort are a heavy operational burden. Hotels need a lot of water for the pool, rooms, spa, restaurant, irrigation, etc. The water rates charged to resorts are often high and the water quality and availability can be far from consistent. The alternative of a private desalination solution contributes heavily to the electricity bills and is a nightmare to maintain. Not anymore:
What if the water supply could become good for your wallet and for the Earth? Provide your guest with guilt-free all-purpose water while cutting your operational expenses.

Save up to 70%
on water expenses

Stress-free operation &
remote monitoring

Sustainable using
unlimited resources

A reliable & independent water supply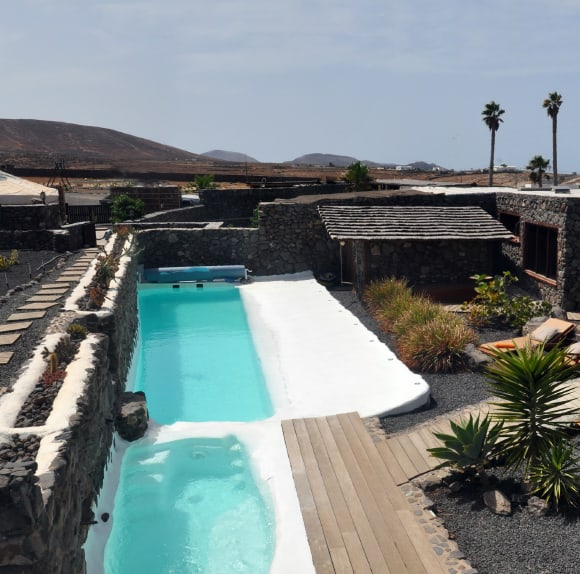 Resort case: Canary Islands.
Eco resort using efficient desalination.
''A special thanks to Elemental Water Makers who joined forces with Lanzarote Retreats to achieve their sustainability goals. The Dutch team made it possible for our eco-village to become independent on water. We are naturally powering the desalination unit by harnessing the wind & sun.

I hope Elemental Water Makers will continue to encourage the rest of the world to do the same.''

Together

Turn-key
Complete turn-key installation or working together with your preferred civil works partners, architects, developers, suppliers and contractors. As a global yet flexible organisation, we meander our ways to find the optimum form of collaboration and financing.
Works everywhere:
Plug & play unit.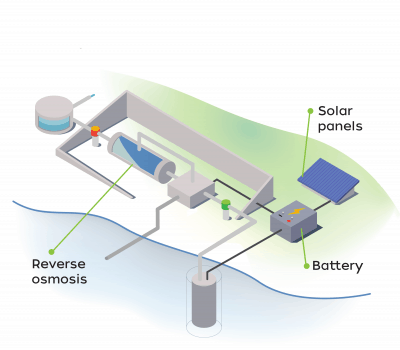 • Solar energy reverse osmosis
• Minimized battery storage
• Rapidly deployed
• Grid-tied version possible
• Water production during the day
• Containerized, Plug & play available
Elevation available: 
Let gravity do the work.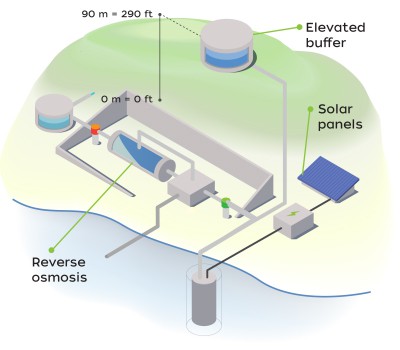 • Solar energy reverse osmosis
• Uses gravity-assisted storage
• Lowest operational expenses
• Makes use of natural elevation
• 24/7 water production
• Reduced brine salinity
Energy source available: 
Efficient water maker.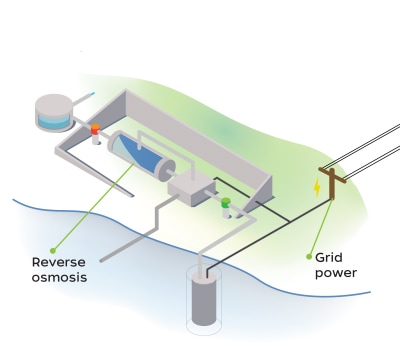 • Efficient reverse osmosis
• Uses your energy supply
• Generator or (mini) grid
• 3x more efficient vs. trad. RO
• 24/7 water production
• Compact or containerized
Financial case: gravity.
A resort cutting water expenses.
The problem
The resort receives its piped water from the island public utility company and faces a commercial rate of 5 $/m³. With a consumption of 50 m³/day, the water expenses weigh heavily on the resort's operational expenses. Some days, there is no water available and some days, the quality doesn't meet the high resort's standards.
The solution
Enter Elemental Water Makers. Through investing in the Gravity-assisted solution, 70% savings on the water expenses will be enjoyed, resulting in over 1.100.000 $. The solution's payback is within 4 years.
The benefits
Besides these financial savings, the resort has become independent on the availability and price of energy, provide high-quality water to their guest, save 100 ton CO2 per year, enjoys stress-free operation & remote monitoring and offer their clients a sustainable experience.
Assumptions: costs including installation and training | Yearly inflation of 2% | Local water price is 5 $/m³ | Water intake available | Financial lifetime 15 yrs | Technical lifetime >20 yrs | OpEx include consumables, spare parts and membrane replacement.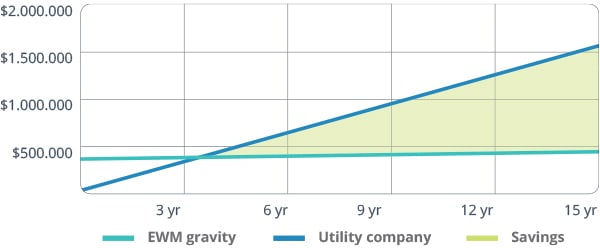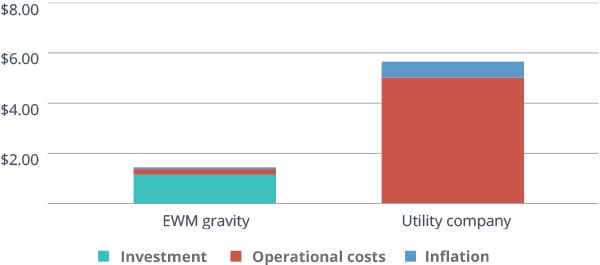 Over $1,000,000 in total savings.
Reliable savings.
Save up to 75% on water expenses.